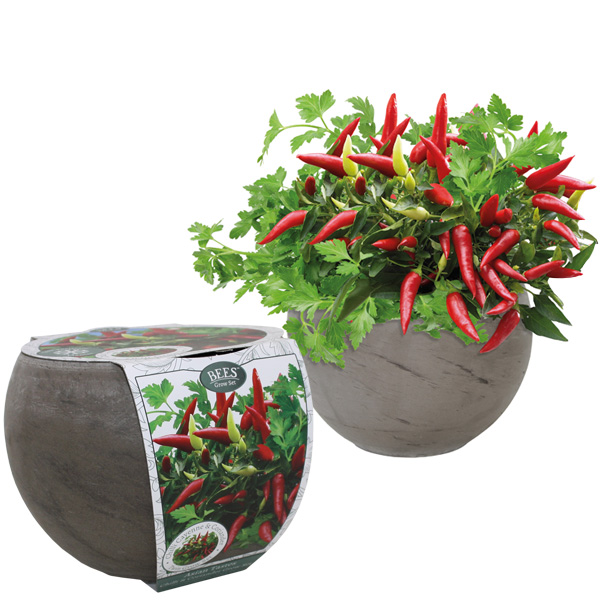 Grow Set
Barcode: 5055128615716
---
Chilli Cayenne & Coriander
Frost resistant planter contains 2 sachets of seeds, 1 sachet of plant food, coir & compost.
Height: 30cm
Plant Type: Veg & Herb Mix


Frost resistant planter with seeds, plant food & growing medium ideal for growing on the patio for fresh chillies and herbs throughout the summer.
Red hot chilli peppers and fresh aromatic coriander to create spicy Asian dishes, whilst bringing colour to your garden.

Sow seeds indoors January to April, or outdoors from April to May.
Harvest tomatoes from July to October, and coriander throughout the year.
1. Place coir block into a large container.
Add 1l of water at a time until the coir resembles compost constancy.
2. Allow coir to absorb the water for 1 hour. Add more water if needed.
3. Fill planter with coir.
4. Scatter seeds evenly over the surface.
5. Try to keep the seeds separated.
This will make harvesting easier.
6. Cover the seeds with compost.
7. Scatter plant food over the surface of the compost.
8. Water lightly.
Do not over water.

Sow seeds indoors and protect seedlings from frosty conditions.
Planter can be covered with a clear plastic bag to create humidity, remove bag once seedlings start to emerge.
Harden plants off for 1 week before placing planter outdoors.
Once seedling start to appear, thin out and transplant unwanted seedlings into separate containers to prevent over crowding.
The earlier chillies are planted, the hotter the fruit will become.
Stagger coriander sowings over the year and harvest regularly to promote further growth.
---
Further Information
Do not eat plant food.
EU Fertiliser Multicote 15-7-15.
Always wash hands after handling plant food.

---
---
Copyright © 2020 G Plants Ltd.