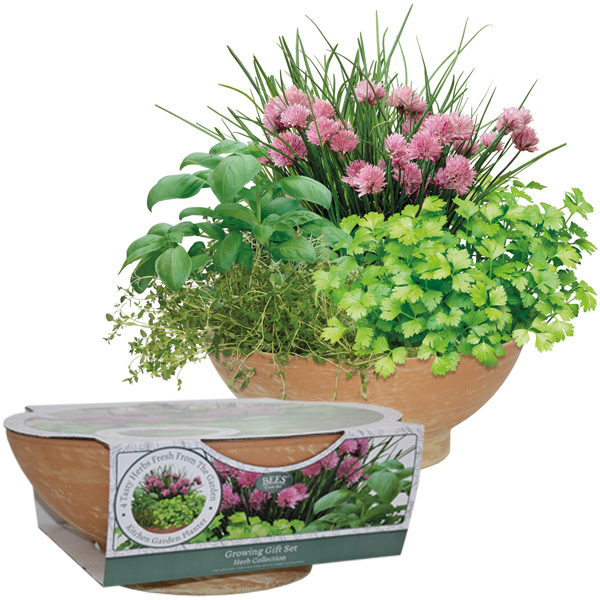 Grow Set
Barcode: 5055128617406
---
Basil, Chives, Parsley & Thyme.
Large outdoor planter contains 4 seed varieties, plant food, propagator & growing medium.
Height: Mixed
Plant Type: Culinary Herbs


An extra large marble effect terracotta planter, ideal for growing on a patio for fresh tasty herbs throughout the summer.
Complete grow kit contains seeds, plant food, propagator, growing medium and outdoor planter.
Herb collection includes Basil, Chives, Parsley and Thyme for overflowing harvests all season long.
Harvest regularly for best results.

Plant outdoors from April to June.
Herbs can be harvested throughout the summer and can be brought indoors over the winter.
1. Place coir block into a large waterproof container and add approx 1l of water.
Allow the coir to absorb the water and add more water if needed.
Stir the coir to ensure all the water has been absorbed and there are no hard lumps.
This process may take up to 1 hour.
2. Once the coir has absorbed the water, fill the planter with the prepared coir.
Open the bag of compost and cover over the coir completely, keep a little compost back to cover the seeds later.
3. Carefully open the sachet of plant food and scatter evenly over the surface of the compost.
4. Split the area up into 4 and carefully sow a few seeds from each sachet evenly over the allocated section.
Seeds can be very small so take care when opening the seed sachet.
*For best results, seeds can be started in a propagator.
5. Gently cover the seeds over and firm down.
Water lightly, the compost should be moist to touch but not waterlogged.
6 The planter can be placed in a sunny position where herbs can be harvested easily.
Continue to water regularly, do not let the compost dry out.

*Sow your seeds in the propagator to speed up the germination process.
A propagator is best used during the colder months, providing seeds with a stable growing environment.

If your planter becomes over crowded thin out into other planters or direct into the garden.
Harvest herbs regularly to promote further growth.
Regular sowings every three months will ensure a continuous supply of fresh herbs.
---
Further Information
Do not eat plant food.
EU Fertiliser Multicote 15-7-15.
Always wash hands after handling plant food.

---
---
Copyright © 2021 G Plants Ltd.