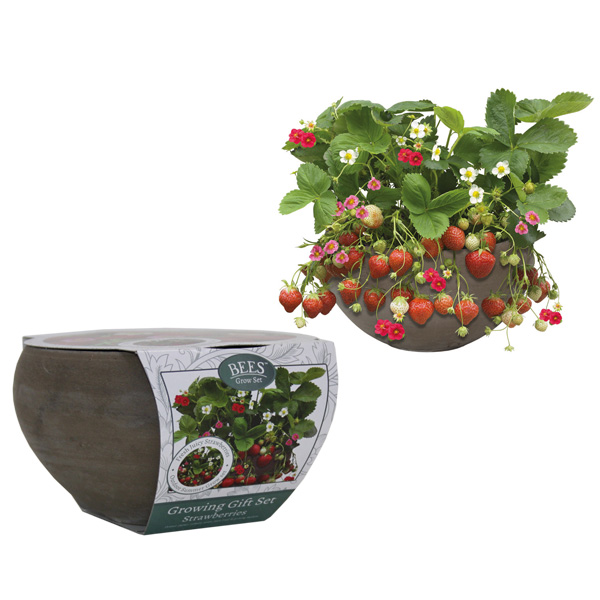 Grow Set
Barcode: 5055128617420
---
Strawberry Rainbow Treasure
Planter contains 1 sachet of seeds, 1 sachet of plant food & 1 bag of compost.
Height: Trailing
Plant Type: Fruit


Frost resistant planter with seeds, plant food & growing medium.
This eye-catching strawberry variety will produce small, but very sweet, dark red fruit which will cascade over a light green foliage on long, bent stems.
Before the development of the fruit, strawberry plants will be filled with colourful blooms in shades of red, pink and white.

Sow indoors or in a greenhouse from February to April.
*Harvest strawberries from June through to October.
1. Open bag of compost and fill planter, keeping a little back to cover the seeds.
2. Water the compost lightly then carefully open the sachet of plant food and scatter evenly over the surface of the compost.
3. Sow seeds evenly over the compost, two to three seeds will fill this planter with overflowing strawberry plants.
4. Cover with remaining compost, gently firm down and water lightly, compost should be moist to touch but not waterlogged.
5. Cover with plastic bag to create humidity and place in a warm spot to activate germination. Germination can take up to 3 weeks.
6. Once seedlings appear, remove plastic bag and place in a sunny position.
7. Continue to water regularly, do not let the compost dry out.
8. Planter can be transferred outdoors when the weather becomes warmer in May, acclimatise to outdoors by leaving outside during the day for a couple of days.

Start Strawberry seeds in a propagator, and keep at 18-21°C for best results.
Water and feed regularly for highest yields.
Plant will bare fruits approximately 18 – 24 weeks from sowing, so the earlier you sow your seeds, the better chance of fruit in the first year.
*Strawberry plants may only produce fruit from the second year.
---
Further Information
Do not eat plant food.
EU Fertiliser Multicote 15-7-15.
Always wash hands after handling plant food.

---
---
Copyright © 2020 G Plants Ltd.