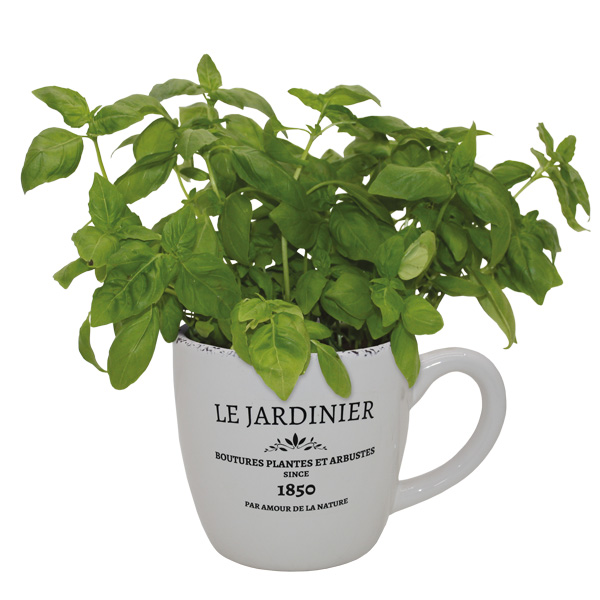 Le Jardinier
Barcode: 5055128615723
---
Basil Sweet Genovese
Harvest Height: 20cm
Plant Type: Annual Herbs

Planter contains 1 sachet of seeds, 1 sachet of plant food &1 bag of compost.


One of the most popular herbs to keep in the kitchen, a versatile aromatic herb, which can be used in Oriental and Mediterranean dishes. Sow March to May, or all year round indoors. Excellent to use in Thai and Italian dishes, salads and soup.
Germination 2 – 3 weeks. Harvest 14 - 21 days.

1. Empty the bag of compost into the planter and dampen the compost with a little water.
2. Open the sachet of plant food, scatter the contents over the compost and mix well.
3. Carefully open the sachet of seed and sow a few seeds evenly over the surface of the compost (remaining seeds can be used at a later date).
4. Lightly press the seeds down into the compost and cover them over.
5. Mist with water again if needed, compost should be damp to touch but not waterlogged.
6. Pots can be covered with a plastic bag to create humidity and placed into a warm area for 1 week to start germination.
7. Continue to water when needed and remove plastic bag once seedlings emerge.
8. Place in a sunny, warm spot and await fresh, tasty herbs to use throughout the summer.

Water regularly - do not let the compost dry up.

If your planter becomes over-crowded thin out and transplat into other planters or direct into the garden for a fresh herb patch. Harvest regularly to promote further growth.
Further Information
Do not eat plant food.
EU Fertiliser Multicote 15-7-15.
Always wash hands after handling plant food.

---
---
Copyright © 2020 G Plants Ltd.