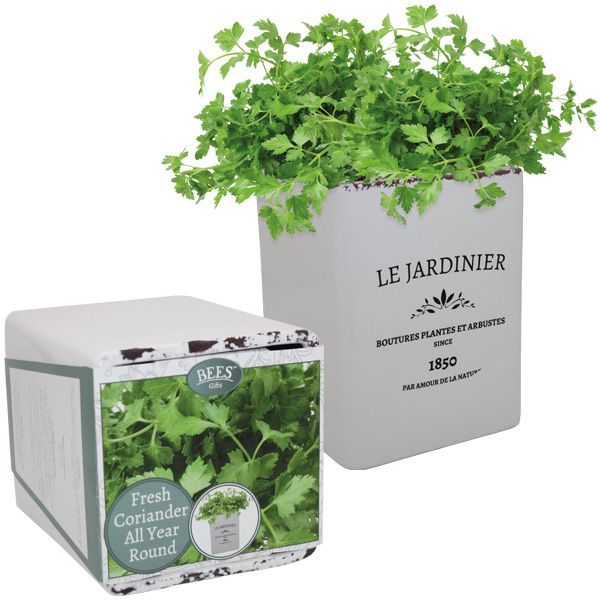 Le Jardinier
Barcode: 5055128615761
---
Coriander
Harvest Height: 20cm
Plant Type: Perennial Herbs

Planter contains 1 sachet of seeds, 1 sachet of plant food &1 bag of compost.


Coriander is a pungent, leafy herb which is used in full-flavoured Asian and Mexican cooking. Sow March to May, or all year round indoors. Harvest regularly for a longer harvest time and bushier plant. Leaves, stems and seeds are all edible.
Germination 7-14 days. Harvest approx. 4 weeks from sowing.
(Coriander prefers slightly warmer conditions and sunlight)

1. Empty the bag of compost into the planter and dampen the compost with a little water.
2. Open the sachet of plant food, scatter the contents over the compost and mix well.
3. Carefully open the sachet of seed and sow a few seeds evenly over the surface of the compost (remaining seeds can be used at a later date).
4. Lightly press the seeds down into the compost and cover them over.
5. Mist with water again if needed, compost should be damp to touch but not waterlogged.
6. Pots can be covered with a plastic bag to create humidity and placed into a warm area for 1 week to start germination.
7. Continue to water when needed and remove plastic bag once seedlings emerge.
8. Place in a sunny, warm spot and await fresh, tasty herbs to use throughout the summer.

Water regularly - do not let the compost dry up.

If your planter becomes over-crowded thin out and transplat into other planters or direct into the garden for a fresh herb patch. Harvest regularly to promote further growth.
Further Information
Do not eat plant food.
EU Fertiliser Multicote 15-7-15.
Always wash hands after handling plant food.

---
---
Copyright © 2020 G Plants Ltd.