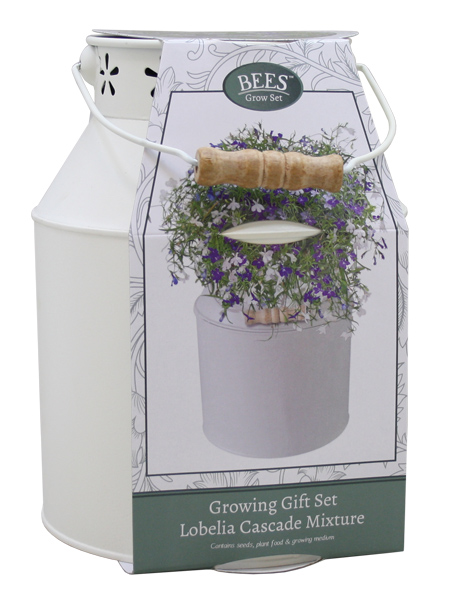 Grow Set
Barcode:5055128613576
---
Lobelia Cascade Mix
Trailing: 25cm
Plant Type: Half Hardy Annual


This complete lobelia cascade gift set will grow quickly and trail over the pretty planter, creating a cascade of delicate blooms in blue and white on a backdrop of vibrant green stems. An easy to grow annual that is popular for its versatility and long flowering period.

Sow indoors from January to April or outdoors from May to June.
Lobelia plants usually flower from June through to October.

1. Open bag of compost and fill planter using all of the compost.
2. Water the compost lightly then carefully open the sachet of seeds ready to sow.
3. Sow seeds thinly and evenly over the compost, 1cm apart, you may want to only sow half the sachet of seeds, as you do not want to over crowd the container.
4. Gently firm down into compost and water lightly, compost should be moist to touch but not waterlogged.
5. Cover with plastic bag to create humidity and place in a warm spot to activate germination. Germination can take up to 3 weeks.
6. Once seedlings appear, remove plastic bag and place in a sunny spot on a warm windowsill or greenhouse.
7. Continue to water regularly, do not let the compost dry out.
8. Planter can be transferred outdoors when the weather becomes warmer in May, acclimatise to outdoors by leaving outside during the day for a couple of days.
9. Await your overflowing display throughout the summer!

If your planter becomes over-crowded thin out into other planters or direct into the garden for a larger flower display.
Fertilise once a month for best results and water regularly.
Trim back plants after the first shows of flowers have faded to encourage further flowering.
Stakes can be used to help train plants.
---
Further Information
Do not eat ornamental flowers or seeds.
Some plants can be harmful if consumed or cause irritation if touched.
Always wear gloves when gardening and wash hands thoroughly when finished.
See our list of potentially harmful plants here.
---
---
Copyright © 2020 G Plants Ltd.