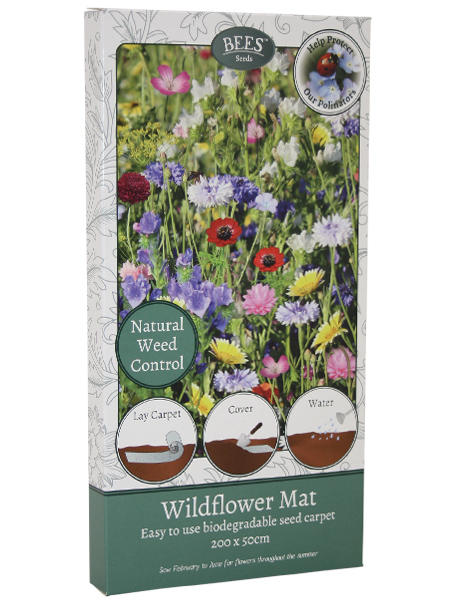 Seed Carpet Instructional video
Seed Carpet
Barcode:5055128613637
---
Create a beautiful, natural flower display, and provide a haven for garden wildlife with this mixture of perennial, annual and biennial wildflower species.
Size: 200 x 50 cm
Contains: Summer Pheasant's Eye, Corn Cockle, Star Thistle, English Wallflower, Chinese forget-me-not, Phlox Tri-colour, Flax, Lupin Blue, Nemophila Maculate, Evening Primrose, Red Poppy, Pink Catchfly, Peach Blossom, Babys-Breath, Common Daisy, Marigold, Rose of Heaven and Forget-me-not.

(Varieties can be changed due to seasonal circumstances.)



Unfortunately our pollinators and other garden wildlife are in serious decline, but the good news is you can help increase the amount of wildlife circulating in your area by planting nectar-rich wildflowers, and the easiest way to do this is using our Wildflower Mat.

Research shows by planting wildflowers makes a huge difference to garden wildlife, the problem is stopping weeds naturally, without killing precious pollinators, and Wildflower Mat has been scientifically proven to do just this!

This seed mat is made up of two layers of biodegradable tissue paper with wildflower seeds between them. When laid onto prepared soil and covered with a thin layer of clean soil or compost the mat will suppress weeds and encourage germination of flower seeds in the mat.

Create a beautiful, natural flower display, to provide a haven for garden wildlife with this mixture of perennial, annual and biennial wild flower species.

Easy to plant...

1. Prepare and level the ground, remove any weeds and stones before planting.
(Mat can be cut down to fit area)

2. Lay the mat flat over the ground and cover with approximately 1 cm of clean soil or compost.

3. Initially water the area thoroughly to ensure the mat is soaked enough to activate germination.

4. Water regularly, especially throughout the warmer summer months.

For best results place in a warm, sunny location with good drainage.
Can also be used in containers and patio tubs.
Wait until the risk of frost has passed before planting.

Further Information
Do not eat ornamental flowers or seeds.
Some plants can be harmful if consumed or cause irritation if touched.
Always wear gloves when gardening and wash hands thoroughly when finished.
See our list of potentially harmful plants here.
---
---
Copyright © 2020 G Plants Ltd.