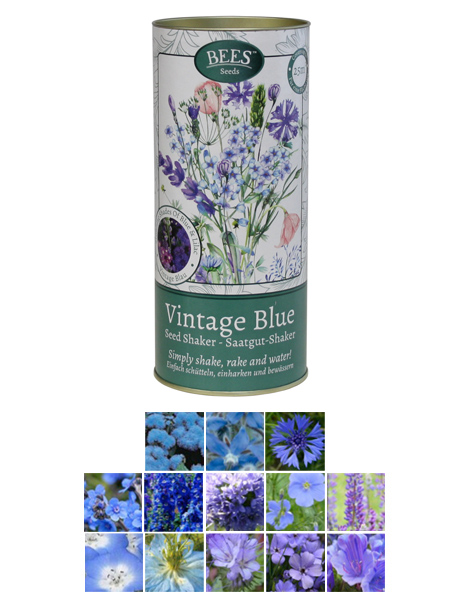 Seed Mixtures
Barcode:5055128618892
---
A beautiful mixture of flowers, in shades of blue and lilac to create a peaceful oasis in your garden.
Height: mixed
Contains: Mexican Paintbrush, Alkanet, China Aster, Cornflower, Larkspur, Blue Thimble, Forget-Me-Not, Baby Blue Eyes, Love-in-a-Mist, Lacy Phacelia, Clary Sage and Borage.
(Varieties can differ and can be replaced due to crop and seasonal circumstances.)



Blue flowers are associated with serenity and calm. Ranging from pale baby blue to deep midnight shades, they will look striking in borders, pots and flower arrangements.

Easy to sow...
1. Prepare soil by removing any stones and weeds.
2. Rake soil to a depth of around 2 - 4 cm.
3. Before opening, shake well to mix the contents evenly.
(Product contains natrual bran seed carrier, so don't worry if you can't see the seeds.)
4. Shake out of the tin directly onto the ground in an even dusting or alternatively take a handful of the mixture and spread out by hand if you find this easier.
5. Rake surface lightly. Flowerbed can be rolled or firmed down to ensure the seeds have good contact with the soil.
6. Water well to activate seeds and ensure the soil is kept moist.

For denser displays, spread over 5 – 10 m²
Can also be used in containers and patio tubs.
Contains seed mixture and spreading agent to ensure seeds are evenly spread.
Only sow seeds outdoors after last frost, frost will damage seed growth and stop germination.
Seed mix contains hardy/half hardy annuals and perennials.
Store in a dry place and for best results use within season of purchase.

---
Further Information
Do not eat ornamental flowers or seeds.
Some plants can be harmful if consumed or cause irritation if touched.
Always wear gloves when gardening and wash hands thoroughly when finished.
See our list of potentially harmful plants here.
---
---
Copyright © 2021 G Plants Ltd.