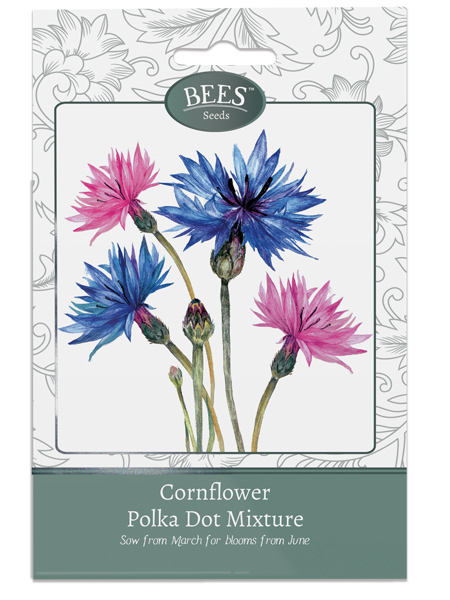 Seed Pack
Barcode:5055128613330
---
Cornflower
Polka Dot Mixture
Growing Height: 50cm
Plant Type: Hardy Annual


Cornflowers are some of the easiest flowers to grow, and this perfect for pollinators approved mixture will provide a fabulous wildflower display to attract a wealth of wildlife throughout the summer. A striking blend of purple, blue, white and pink shades, ideal for back of borders and to use as cut flowers. Cornflower mixture will bloom from June to October.

Sow direct outdoors where they are to flower from March, or after last frost. Opt for a sunny spot in the garden, rake the soil to a fine tilth and sow thinly spacing out 30cm apart and cover lightly with excess compost no deeper than 1cm. Water well to ensure good contact with the compost and to activate germination. Germination can take up to 3 weeks. Seeds can be direct sown from March to May for summer flowers. Alternatively conflower seeds can be sown indoors in August and September to be transplanted outdoors in the spring for earlier blooms.

Grow cornflowers indoors from August to September for early summer flowering next year.
Enjoy cornflowers year after year, by allowing to self-seed and die back naturally.
Further Information
Do not eat ornamental flowers or seeds.
Some plants can be harmful if consumed or cause irritation if touched.
Always wear gloves when gardening and wash hands thoroughly when finished.
See our list of potentially harmful plants here.
---
---
Copyright © 2020 G Plants Ltd.