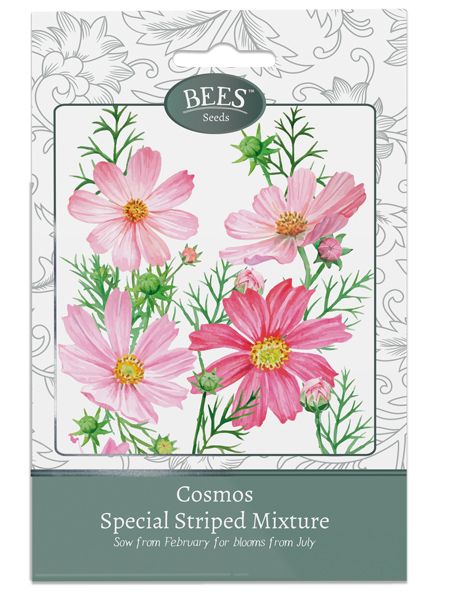 Seed Pack
Barcode:5055128613323
---
Cosmos
Special Striped Mixture
Growing Height: 60cm
Plant Type: Half-hardy Annual


A perfect pollinators approved variety, producing striking large flower heads with striped petals in shades of pink and white. Half-hardy annual with masses of fern-like foliage and brightly coloured blooms, ideal for filling borders and creating wildlife garden displays.

Sow indoors from February until May onto moist, warm compost. Cover lightly with a fine layer of quality compost no deeper than 1cm. Ideally start off in a propagator and place in a warm environment up to 20°C. Germination can take up to 2 weeks. When seedlings are large enough to handle, thin out. Plants can be transplanted outdoors, where they are to flower from May when the ground is warmer. Acclimatise plants to the outdoors by placing outside during the day for several days. Opt for a sunny position, ideally mid to back of border and space out to 30cm apart. Cosmos plants will provide flowers from July to October.

Water regularly until they are fully established.
Deadhead faded flowers regularly to encourage more blooms to be produced throughout the summer.
Further Information
Do not eat ornamental flowers or seeds.
Some plants can be harmful if consumed or cause irritation if touched.
Always wear gloves when gardening and wash hands thoroughly when finished.
See our list of potentially harmful plants here.
---
---
Copyright © 2020 G Plants Ltd.