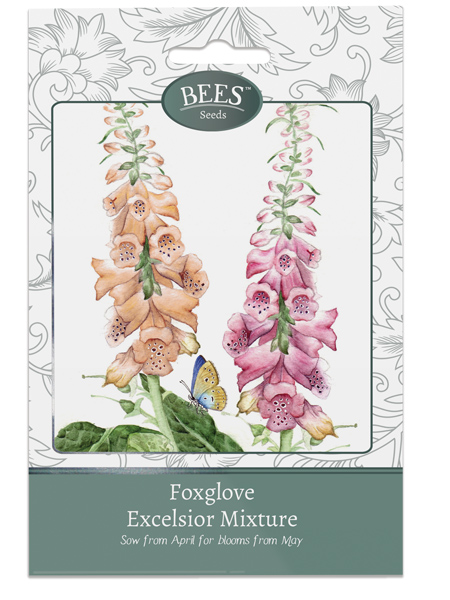 Seed Pack
Barcode:5055128613279
---
Foxglove
Excelsior Mixture
Growing Height: up to 150cm
Plant Type: Hardy Biennial


A colourful and spectacular strain of Foxglove, which is superb for back of border, shady shrubs and tree areas, this variety is also excellent for cut flowers. A perfect pollinators approved variety to attract bees and butterflies, this early summer flowering variety, will bring your garden alive with scent and colour and pollinators!

Sow seeds directly outdoors from April to July, into finely prepared, moist soil at a depth of 1cm and 5 cm apart. Seedlings can take up to 5 weeks to appear, keep moist and weed free whilst germinating. In autumn your plants can be spaced out to 25cm apart, ready for winter. Foxgloves grown from seed will flower the following year from May until September, and then each year after as this is a hardy perennial. Alternatively, sow indoors or in a greenhouse from April, transplanting outdoors from September.

Allow plants to self-seed for further plants each year.
Can cause irritation to skin and eyes.
Further Information
Do not eat ornamental flowers or seeds.
Some plants can be harmful if consumed or cause irritation if touched.
Always wear gloves when gardening and wash hands thoroughly when finished.
See our list of potentially harmful plants here.
---
---
Copyright © 2020 G Plants Ltd.