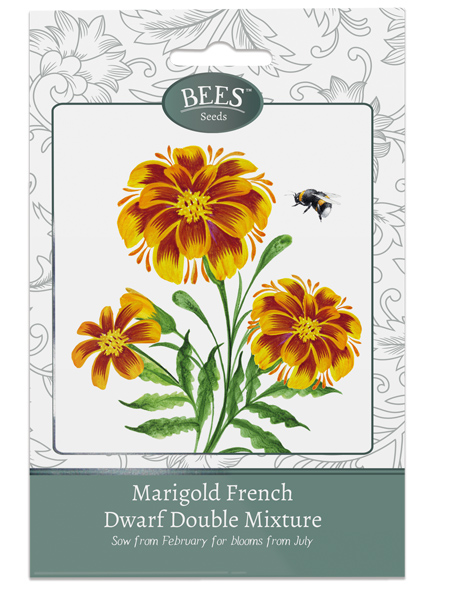 Seed Pack
Barcode:5055128613293
---
French Marigold
Dwarf Double Mixture
Growing Height: 25cm
Plant Type: Half-hardy Annual


Marigolds provide long lasting summer colour, ideal for front of border and patio containers. This dwarf variety produces masses of brightly coloured bushy blooms in yellow and orange shades from June through to October. One of the easiest flowers to grow from seed and a perfect pollinator variety to attract butterflies and bees.

Sow seeds indoors for best results from February until April in warm, moist compost approx. 1cm deep and 5cm apart. Germination can take up to 3 weeks, when seedlings are large enough to handle, gradually acclimatise to outdoor temperatures and transplant outside from May when all risk of frost has gone. Alternatively sow directly outdoors after last frost where they are to flower and thin out seedlings as required. Water regularly in hot summer months, especially if planted up in containers as they can dry out quickly.

Remove spent flowers regularly to encourage further blooms throughout the summer.
Marigold petals are often used to brighten up cocktails and summer salads.
Further Information
Do not eat ornamental flowers or seeds.
Some plants can be harmful if consumed or cause irritation if touched.
Always wear gloves when gardening and wash hands thoroughly when finished.
See our list of potentially harmful plants here.
---
---
Copyright © 2020 G Plants Ltd.