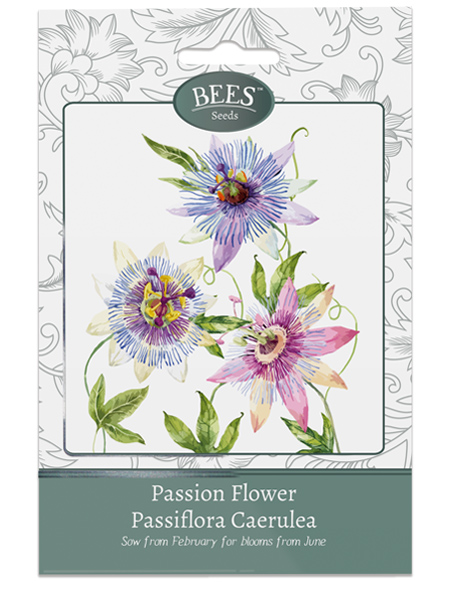 Seed Pack
Barcode:5055128613224
---
Passion Flower
Passiflora Caerulea
Growing Height: over 300cm
Plant Type: Hardy Perennial (Climber)


Perfect for adding an exotic and tropical feel to your garden. The stunning flowers have large white petals that open out to reveal purple filaments. A vigorous climber ideally situated in a sunny position although it will tolerate some partial shade. Summer flowering, with blooms from June to October. Height over 300cm.
(Blooms may only appear in second year)

Sow indoors from February to March, ideally in a propagator. Seedlings like the warmth and moisture, so is an ideal plant to start off in a warm greenhouse or conservatory windowsill. Sow one seed per pot, or space out to 10cm and 1cm deep and water. Germination can take up to 6 weeks, when seedlings are large enough to handle, transplant into larger pots to grow strong enough to transplant outdoors. Strong plants can be transplanted outdoors in a sheltered position from mid-June when the ground is warmer and there is no chance of frost. Passion flower plants will generally only produce flowers in the second year, but as a half-hardy perennial, should produce flowers year after year. Opt for a protected position against a wall to protect from cold and strong winds.

Passion flower plants are climbers and perfect for creating a vertical display over walls, trellis or fencing. Transplant in a sunny position against framework for the vines to clamber up. Also grows very well in partial shade.
Passion flower can be grown indoors up a conservatory wall, this will prolong the flowering period.
Seeds from the fruit can be used to grow new plants (do not eat fruits). Simply pick the fruit when they are orange, scoop out the seeds and wash them. They can be sown straight way but must be protected from frost come winter.
If planted outdoors, cover roots with mulch in winter.
Further Information
Do not eat ornamental flowers or seeds.
Some plants can be harmful if consumed or cause irritation if touched.
Always wear gloves when gardening and wash hands thoroughly when finished.
See our list of potentially harmful plants here.
---
---
Copyright © 2020 G Plants Ltd.