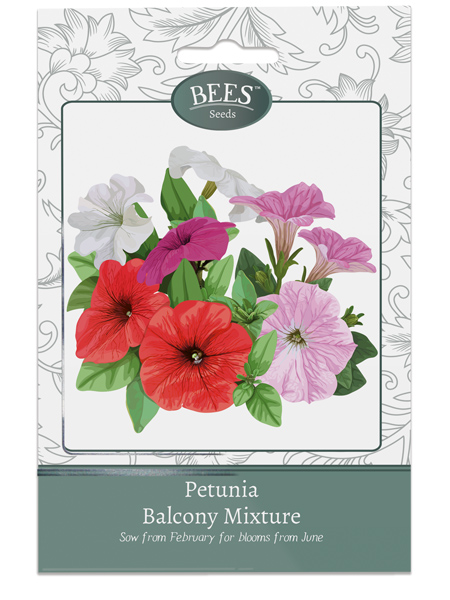 Seed Pack
Barcode:5055128613200
---
Petunia (hybrida)
Balcony Mixture
Growing Height: 25cm
Plant Type: Half Hardy Annual (Trailing)


Beautiful hybrid series of trailing Petunia flowers that produce blooms in shades of red, pink, blue, white and purple. They have an excellent trailing habit and therefore produce outstanding performance in hanging baskets and containers but can also be used as ground cover. Petunias will attract bees and other beneficial pollinating insects. Height 25cm.

Sow indoors from February to April in pots or trays with seed compost, gently pressing the fine seeds into the surface. Keep moist and maintain a temperature of 20-25°C. Once seedlings have emerged, gradually reduce to about 15°C, a warm windowsill is often sufficient. Thin out to further pots or trays when seedlings are large enough to handle. Gradually harden them off before planting out in early June, spacing 20cm apart for flowers from June to October.

This mixture contains trailing varieties, which will overflow from pots and looks eye-catching in hanging baskets and window boxes.
Removing the dead heads will prolong the flowering season and produce more blooms.
Further Information
Do not eat ornamental flowers or seeds.
Some plants can be harmful if consumed or cause irritation if touched.
Always wear gloves when gardening and wash hands thoroughly when finished.
See our list of potentially harmful plants here.
---
---
Copyright © 2020 G Plants Ltd.