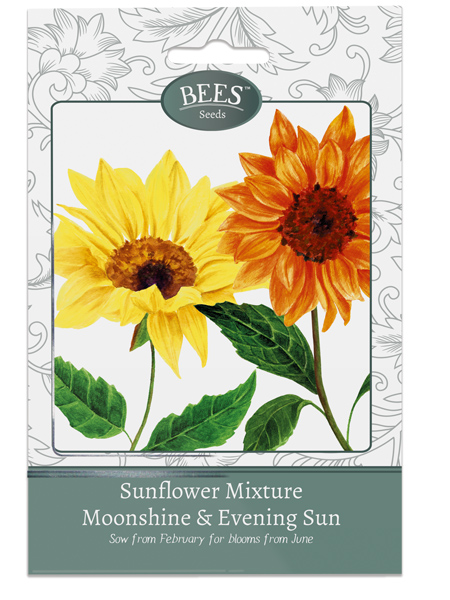 Seed Pack
Barcode:5055128613262
---
Sunflower (Helianthus Annuus)
Moonshine & Evening Sun Mix
Growing Height: up to 180cm
Plant Type: Hardy Annual


This collection comprises of Moonshine and Evening Sun to create a contrasting mixture of soft lemon shades against deep red/orange tones. Sunflowers are among the easiest annuals to grow, as well as some of the tallest. Theses varieties will produce huge, saucer-shaped flowers that will tower over other plants in the border.

Sow seeds directly into the ground from March, after last frost for flowers from June to October. Rake the surface to a fine texture and water well, to ensure a good start to seed germination. Germination usually takes around 2 weeks; ideally your sunflower plants should be spaced out 30cm apart to get the best results. Alternatively, start off in trays indoors from February for earlier blooms. Enrich soil with well-rotted manure before planting. Opt for a sheltered position, ideally against a garden wall to protect from strong winds.

As sunflowers grow so tall, it is advised stake the stems to avoid breakage.
Wildlife love sunflowers, especially birds who will eat the seeds at the end of the summer. Leave flowers to die back naturally to provide food for birds during the autumn.
Further Information
Do not eat ornamental flowers or seeds.
Some plants can be harmful if consumed or cause irritation if touched.
Always wear gloves when gardening and wash hands thoroughly when finished.
See our list of potentially harmful plants here.
---
---
Copyright © 2020 G Plants Ltd.