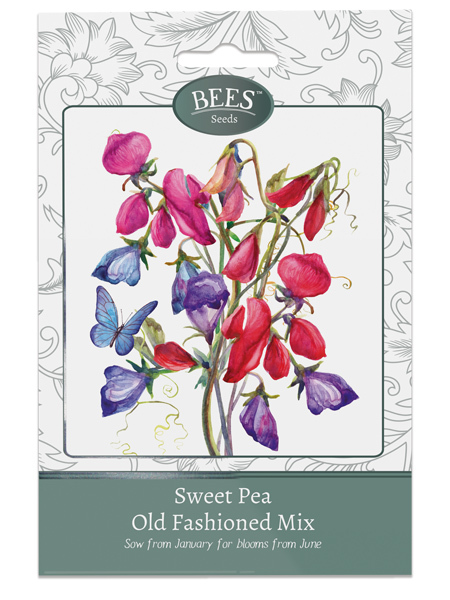 Seed Pack
Barcode:5055128613255
---
Sweet Pea
Giant Wave Mix
Growing Height: up to 200cm
Plant Type: Hardy Annual (Climber)


The largest flowering variety of Spencer type sweet peas, producing large blooms in vibrant colours. Ideal for vertical garden displays at the back of borders or trellis-trained against a patio wall. Bring the soft scents of this beautiful variety indoors as cut flowers in the summer.

Sow seeds indoors from January until April, for transplanting outdoors from May, when the ground is warmer and risk of frost has gone. Sweet peas are hardy annuals, which can also be sown directly outdoors where they are to flower from early summer in warm, weed-free soil. Sow seeds approximately 3cm apart and 1cm deep in a warm environment (up to 20°C), germination can take up to 3 weeks. Alternatively sow indoors from September to October for blooms early the following year.

Soak seeds for 24 hrs before sowing, this will help seeds to germinate faster.
Remove growing tips from seedlings after 3 or 4 pairs of leaves have developed to stop plants from getting leggy. This will produce stronger, denser displays of blooms.
Once the plants have established, remove spent flower heads to promote further flowers throughout the season.
To extend the flowering period, remove seed pods as soon as they appear. These look like fluffy pea pods but SHOULD NOT be eaten.
To create a tall container display, use canes and twine to build a frame and then train your plants onto the structure.
Further Information
Do not eat ornamental flowers or seeds.
Some plants can be harmful if consumed or cause irritation if touched.
Always wear gloves when gardening and wash hands thoroughly when finished.
See our list of potentially harmful plants here.
---
---
Copyright © 2020 G Plants Ltd.