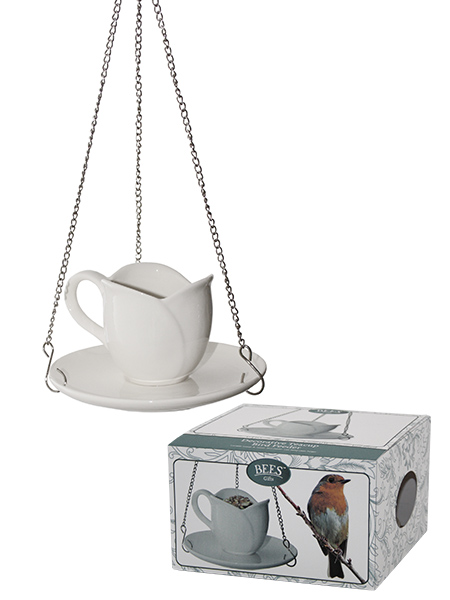 Gifts
Barcode: 5055128613804
---
Ceramic Teacup & Saucer Birfeeder
Contains: ceramic birdfeeder
with metal chain & S-shape hook

An elegant ceramic, glazed bird feeder on metal chain to hang in the garden throughout the year.
There are many bird food mixtures and seeds available, but you should check which varieties would be best for the birds in your garden throughout the seasons.

Seed Mixtures
Choose a seed mixture with a low wheat and barley content as these are only suitable for larger birds such as pigeons and doves. Also avoid mixtures containing split peas, beans, dried rice or lentils, as these are only suitable for larger birds. Smaller seeds such as millet attract house-sparrows, dunnocks, finches, reed buntings and collard doves.

Black Sunflower Seeds
Excellent year-round food and a popular seed to many species including blue tit, great tit, finches and house sparrows. Black sunflower seeds are higher in nutritious oils than the striped one, so opt for these if possible. Sunflower hearts are another very popular and nutritious seed but with the husk removed.

Nyjer Seeds
Tiny black seeds, which are rich in nutritious oils and ideal for smaller bird species such as goldfinch, siskin and greenfinches. These seeds can be added to a mixture to give more nutritious seed mix.

Peanuts
Rich in protein and fats, making them are popular with tits, greenfinches, house sparrows, nuthatches, great spotted woodpeckers and siskins. Crushed or grated nuts attract robins, dunnocks and even wrens. Salted or dry roasted peanuts should not be used and must be freedom from aflatoxin.


Clean out feeder regularly with warm soapy water and dry thoroughly before re-filling with food.
---
---
---
Copyright © 2018 GPlants Ltd.