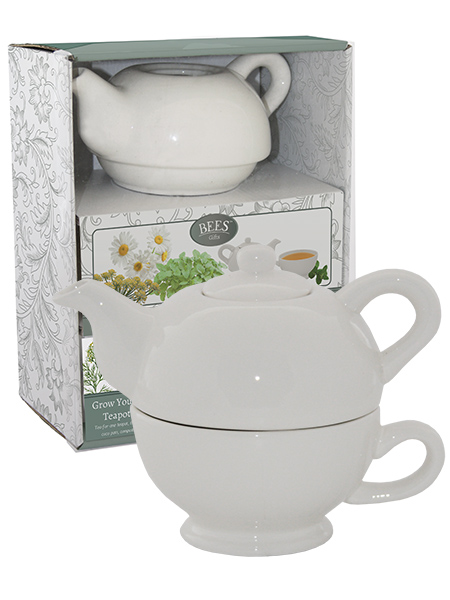 Gifts
Barcode: 5055128613705
---
Teapot Gift set
Grow Your Own Tea
Contains: Tea-for-One teapot & cup
3 sachets of mint, chamomile & fennel seeds
coco growing pots, plant markers & compost

Tea has aways been a popular drink for gardeners and with so many varieties of tea available on the market, the options of flavours are endless.
This fantastic gift set is ideal for any keen gardener and especially a tea lover.
The set contains 3 varieties of tea - Mint, Chamomile & Fennel, and can be grown outdoors throughout the summer or indoors all year round.

Here are two ways to prepare your tea:
Fresh: Pick the herb's leaves or flowers, then crush between your fingers to release the scent and flavor. Place 2 teaspoons of fresh herbs into a strainer or mesh tea ball, then steep in 8 ounces of hot water for 3-5 minutes.
Dried: Dry the herbs, and store in airtight containers. Steep about 1 teaspoon of herbs per 8 ounces of water for 3-5 minutes.

Sow seeds indoors at a temperature of 18-20ºC.
Fill each pot with compost, leaving at least 1 cm gap from the top of the coco pot.
Water the compost to moisten, but do not over water.
Sow one variety of seeds per pot and label with plant tags.
Sow seeds thinly over the moist compost, spacing out evenly approximately 1cm apart. (You should have enough seeds for several sowings)
Lightly press the seeds into the compost, ensure that the compost is moist to activate germination.
Seeds will germinate best in warm, sunny and humid environment.
Seedlings should start to appear 7-14 days from sowing.
Once seedlings are large and strong enough to handle, plants can be transplanted into larger 9cm pots.
Mint, chamomile and fennel can be planted out into the garden from June to September.

Mint
Mint tea is one of the most refreshing warm drinks, ideal for a fresher tasting drink over summer, used as a palate cleanser and helps to aid digestion and calm an upset stomach.
Mint tea couldn't be easier to prepare, simply pick a handful of fresh mint leaves and wash thoroughly with cool water.
Preparing tea: add washed mint leaves to teapot and pour boiled water over, allow to steep for up to 5 minutes before serving.

Chamomile
Chamomile tea has a subtle herbal taste and is commonly used as a sleep aid and to reduce stress.
Chamomile flowers will begin to appear from June to September. To make Chamomile tea simply pick the flowers as soon as they appear, these will be used to make tea, but also encourage more flowers to bloom. Dry the flowers out indoors in a warm, dry area out of direct sunlight. Spread out flowers evenly on paper until the flowers are completely dry, they should crumble between the fingers.
Chamomile can be stored in a sterile, sealed glass jar, in a cool dark place for up to one year.
Preparing tea: add 1 tbsp. of dried flowers to your teapot and pour boiled water over dried flowers, allow to steep for 5 minutes before serving. Add a slice of lemon and a teaspoon of honey for a sweeter taste.

Fennel
Fennel tea has been used for medicinal benefits since ancient times, known for its antibacterial purposes, aiding digestion and many more great health benefits. Fennel tea can be made using fresh leaves, the bulb or the seeds. To make a refreshing cup of herbal tea simply pick a handful of the leaves and wash thoroughly with cool water.
Preparing tea: add washed fennel leaves to teapot and pour boiled water over, allow to steep for up to 15 minutes before serving.

Tea's can be topped up with fresh boiled water throughout the day to get the most out of your teapot of fresh tea.

Sow tea at intervals throughout the year to ensure a continuous supply of fresh leaves.
Trimming herbs regularly will encourage a flush of new healthy leaves.
When harvesting leaves, remove foliage from the outside of the plant, allowing new leaves to develop in the centre.
As a general rule don't pick more than a third of the plant's foliage at a time to enable it to recover.
Leaves are best harvested in the morning before any essential oils evaporate.

---
Further Information
Do not eat ornamental flowers or seeds.
Some plants can be harmful if consumed or cause irritation if touched.
Always wear gloves when gardening and wash hands thoroughly when finished.
See our list of potentially harmful plants here.
---
---
Copyright © 2018 GPlants Ltd.