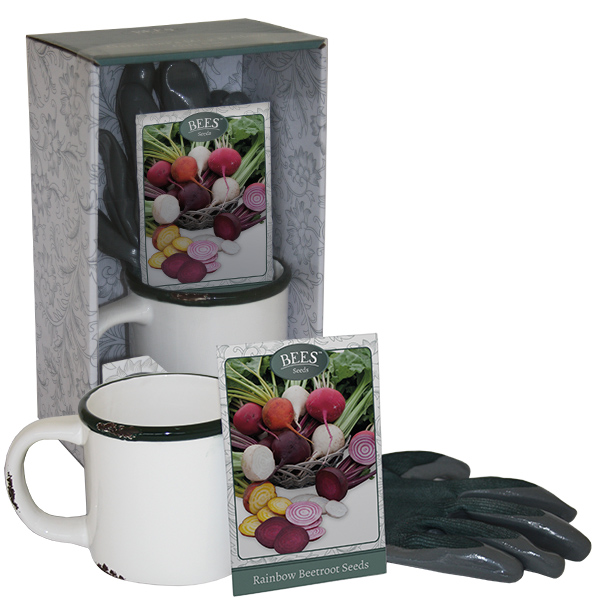 Gifts
Barcode: 5055128613798
---
Gardeners Mug & Glove Gift Set
An Ideal Gift For Any Keen Gardener
Contains: Enamel effect mug
with nylon gardening gloves and rainbow beetroot seeds


A great gift idea for the gardern in your life. Set contains large enamel effect ceramic mug, 1 pair of hard wearing nylon gardener gloves and a selection of rainbow beetroot seeds.
Varieties in the seed mixture include Boltardy, Burpees Golden, Albino & Chioggia.

Sow outdoors after the last frost from March to July. Seeds can be started under glass from February.

1. Choose a sunny spot with good drainage.
2. Prepare the area by removing any stones and weeds.
3. Rake the area to a fine tilth ensuring their are no large clumps of soil.
4. Sow seeds thinly in shallow drills at a depth of 1cm and 30cm apart.
5. Cover lightly and water.
6. Germination will usually take 12 to 24 days.

Thin Out
When large enough to handle, thin seedlings to 5 - 7cm apart. Harvest
Beetroot are ready to harvest once they are at least 3cm in diameter, normally from June to November. Tips
Water as necessary to prevent the soil from drying out. Harvest any remaining crops before the first frosts.
Beetroot can be stored until mid spring in boxes of moist sand in a frost free shed or garage.
Stems and leaves can be steamed as an alternative to spinach or chard.
---
Further Information
Do not eat ornamental flowers or seeds.
Some plants can be harmful if consumed or cause irritation if touched.
Always wear gloves when gardening and wash hands thoroughly when finished.
See our list of potentially harmful plants here.
---
---
Copyright © 2018 GPlants Ltd.