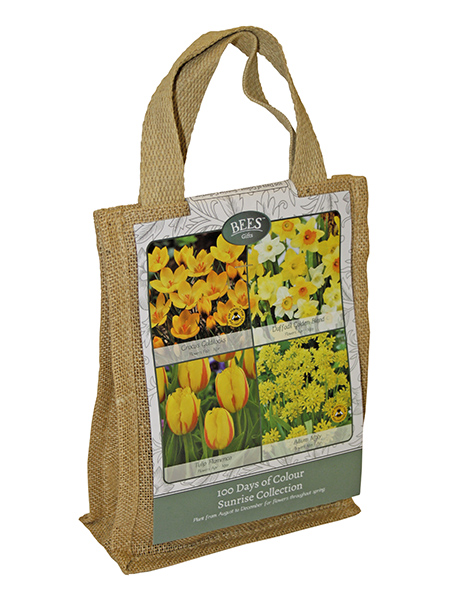 Bulbs
Barcode: 5055128613958
---
Spring Flowering Bulbs
Contains 42 Bulbs
Sizes: Mixed
Flowering Height: Mixed


A beautiful collection of spring flowering bulbs in eyecatching yellow tones. This mixture will provide 100 days of colourful blooms and once faded will return the following year. The mixture contains RHS award winning varieties which have been chosen for their colour, performance and resistance to pests and diseases.

Crocus Goldilocks
15 bulbs size: 5/7
Flowers: February to March
Height: 10cm

Daffodil Golden Blend Mixture
6 bulbs size: 10/12
Flowers: April - May
Height: 20 - 40cm

Tulip Flamenco
6 bulbs size: 10/11
Flowers: April to May
Height: 50cm

Allium Molly
15 bulbs size: 4/5
Flowers: May to June
Height: 15cm


Sow from August to December in beds or containers.
This mixture will bloom from February to June.

1. Prepare an area by removing any stones and weeds.
2. Dig a hole approximately twice as deep as the bulb height.
3. Place the bulb in the hole with the pointy end facing up.
4. Cover the bulb, firm down and water.

For a natural looking drift...
1. Dig the top layer of the area where you wish your display to grow.
2. Open the bag of bulbs and distribute the contents evenly over the chosen area.
3. Rake over to completely cover the bulbs, firm down and water.


If you are not sure which way up the bulb should be facing, lie the bulb on its side.
You can add some slow release fertiliser at the time of planting to give the bulbs an extra boost.
If you want the bulbs to come back the following year then allow to die back naturally.
Tulips should be removed from the growing area after blooming, as they do not like to grow in the same location the following year.
---
Further Information
Do not eat ornamental flowers or bulbs.
Some plants can be harmful if consumed or cause irritation if touched.
Always wear gloves when gardening and wash hands thoroughly when finished.
See our list of potentially harmful plants here.
---
Interested in becoming a stockist?
If you are interested in stocking any of our products please click here to be directed to our B2B site.
---
Copyright © 2018 GPlants Ltd.